FedDev contribution to leverage an additional $1.2 million from Peterborough Region Angel Network.
"As the world increasingly seeks out more sustainable and renewable resources, innovative Canadian companies, such as NobleGen, are leading the way," says FedDev.
See: Federal government invests $600,000 in Peterborough bio-tech start-up Noblegen and FedDev Ontario Contributes $600,000 to Bio-based Innovations
Starting off with a high school science fair project, Noblegen CEO, Adam Noble, studied how certain types of algae could be used to treat waste water.
The award-winning CEO has since established Noblegen, a biotechnology startup.
Through innovative and unique production processes, Noblegen can sustainably grow algae that can be used to create bio-products, such as plant-based proteins and oils. These bio-products can then be used in a variety of applications, such as food and beverage, supplements, cosmetics and water purification processes. They offer nutritional and environmental advantages and can substitute for non-renewable materials, which contributes to a healthier environment for all Canadians.
See also: "Noblegen opening new commercial facility" and "Noblegen announces it will hire 15 more people as it ramps up new bioproducts facility"
Minister of Status of Women, Maryam Monsef, announced the investment on behalf of  The Honourable Navdeep Bains, Minister of Innovation, Science and Economic Development, the Minister responsible for the Federal Economic Development Agency for Southern Ontario, who told us: "Our planet has a limited supply of non-renewable resources. Canada's future depends on embracing greener, more sustainable solutions. By investing in innovative clean technology companies such, as Noblegen Inc., we can create well-paying, middle-class jobs, while contributing to a healthier and cleaner planet."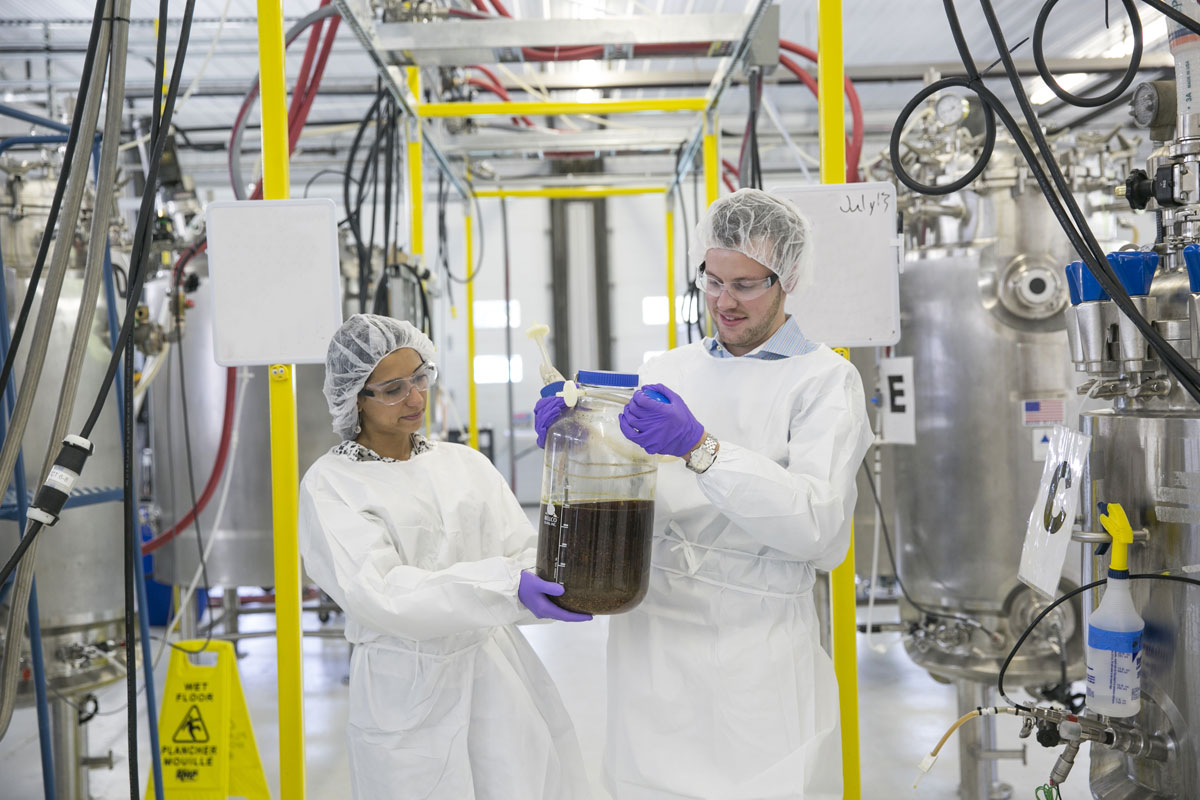 NobleGen will initially focus on the nutritional supplements and animal nutrition markets, increasing the availability of all-natural, environmentally responsible products for health conscious consumers.
This repayable contribution, through FedDev Ontario's Investing in Business Innovation initiative, is expected to create up to 22 skilled jobs in Peterborough.
About NobleGen
Founded in 2013, Noblegen is a groundbreaking Canadian biomaterials company that is striving to meet the world's need for solutions that are sustainable, efficient and cost-effective. Utilizing a proprietary approach to microorganism cultivation, Noblegen creates biomaterials and bio-chemicals with wide market applications that range from food & beverage ingredients and pharmaceuticals to water purification.
Quick Facts
Noblegen Inc. manufactures specialty algae-based bioproducts for a wide range of applications, including food and beverage, nutritional supplements, animal feed, cosmetics, pharmaceuticals, as well as waste water treatment.
The company, formerly known as Noble Tech, was founded in 2013 by Adam Noble and Dr. Andressa Lacerda. Along with winning several national and international awards, Mr. Noble was the youngest recipient of one of Canada's 2014 Clean50 Awards, and was also named one of Canada's Top 20 under 20. To date, Mr. Noble is the highest awarded youth scientist in Canadian history.
On March 30, 2017, Noblegen unveiled its new Gen 1 production facility, the largest commercial manufacturing facility of its kind in North America, intended to meet the growing demand for sustainable bioproducts.
FedDev Ontario's repayable contribution of up to $600,000 will leverage an additional $1.2 million from an accredited member of the Peterborough Region Angel Network.