At the end of April, Emergence joined forces with the National Angel Capital Organization to deliver a series of workshops across Atlantic Canada for investors and entrepreneurs. Click here to see that story!
Now, Emergence is again partnering with NACO – this time to present the 2nd annual Atlantic Regional Angel Summit, taking place in Halifax, Nova Scotia on May 28 and 29, 2018.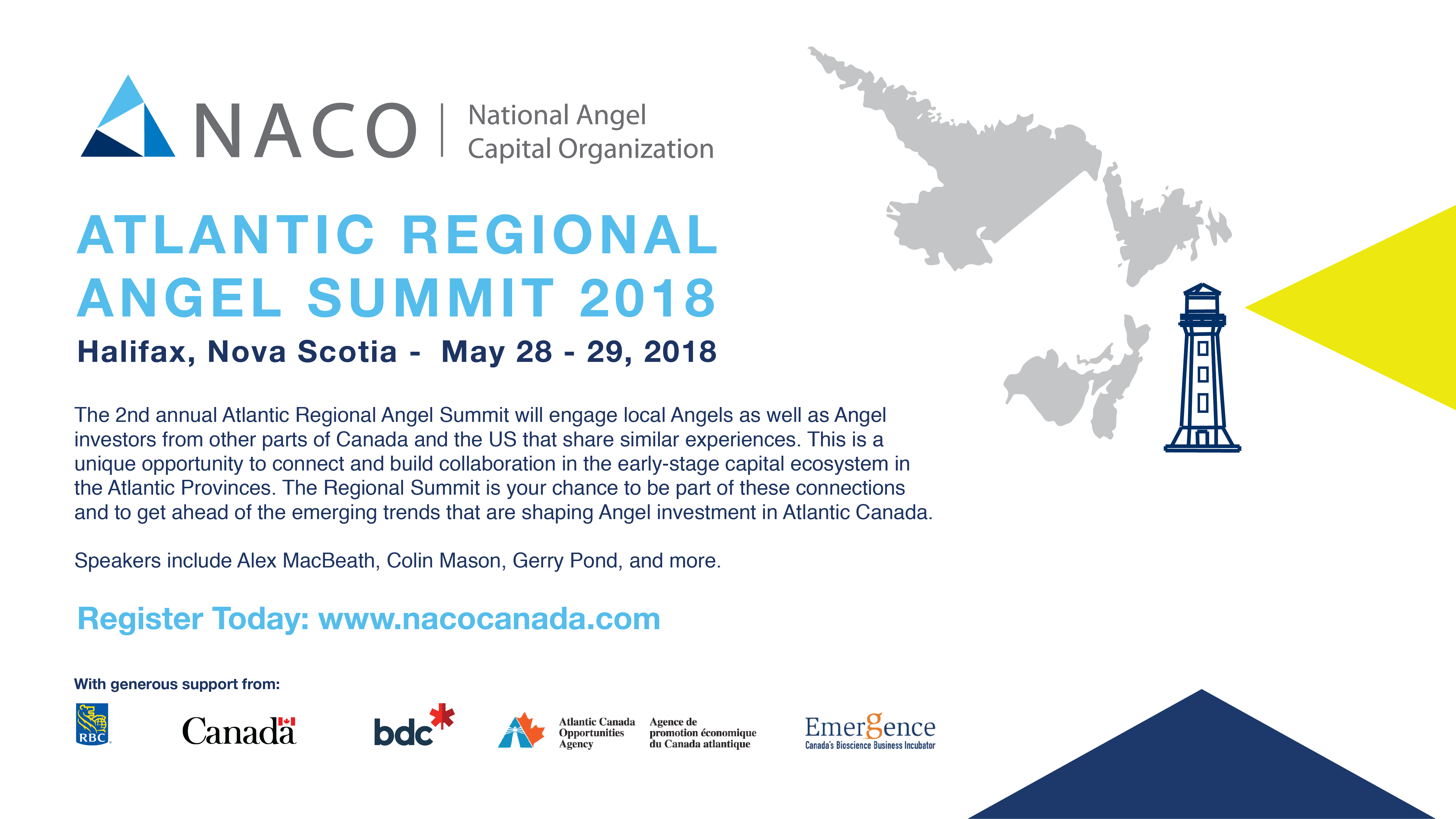 The Summit is set to engage Atlantic Angel investors as well as Angels from other parts of Canada and the US that share similar experiences.
The Summit offers a unique opportunity to connect and build collaboration across the early-stage capital ecosystem in the Atlantic Provinces.
The Regional Summit is your chance to be part of these connections and to get ahead of the emerging trends that are shaping Angel investment in Atlantic Canada.
Why participate:
Network with experienced investors, incubators, accelerators, venture capitalists, and other industry leaders.
Create greater connectivity in the early-stage capital community.
Build new relationships while strengthening existing ones.
Develop a higher level of knowledge and skill from the NACO Academy investor education programs.
Showcase the Halifax innovation community – in person tours and hands on experiences.
Emergence director, Martin Yuill, says that Emergence is partnering with NACO because of the importance of expanding the early-stage and startup ecosystem in Atlantic Canada.
"Angel investment is an important asset class for early-stage companies and plays a critical role in the life of most startup and scale-up ventures," says Yuill.
"The 2018 Regional Angel Summit is designed to help connect these key players in the innovation ecosystem across Atlantic Canada"
Monday, May 28
4:00 – 6:00 PM: Experiential Networking Tours
6:30 – 8:30 PM: Networking Reception at the Garrison Brewery
Join your fellow attendees at the new brewery for networking, snacks and delicious, hand-crafted beers.
Tuesday, May 29
9:00 – 10:00 AM: Registration and Refreshments
10:00 – 10:30 AM: Opening Remarks: Yuri Navarro, CEO & Executive Director, NACO
Opening Keynote
10:30 – 11:00 AM: Canadian Angel Investing in a Global Market
Presented by Colin Mason, Professor of Entrepreneurship at the Adam Smith Business School of the University of Glasgow
11:00 AM – 12:00 PM: Panel Discussion: Diving into Atlantic Canada's Entrepreneurial Potential
12:30 – 2:00 PM: Networking Lunch
Remarks: Sandi Gilbert, Chair of the Board of Directors, NACO
Keynote Address: Paying it Forward – Building a Culture of Innovation
2:00 – 2:30 PM: Networking Coffee Break
2:30 – 3:15 PM: Activating the Angel Asset Class in Atlantic Canada
Panelists: Alex MacBeath, CEO and Managing Director, Island Capital Partners
3:15 – 4:00 PM: Building a Globally Competitive Regional Ecosystem
4:00 – 4:15 PM: Closing Remarks
See also: Emergence Partners with NACO to present "Atlantic Regional Angel Summit"