As part of this year's Global Biotech Week (September 24-30, 2018), Emergence joined in "celebrating science, innovation, and solutions"!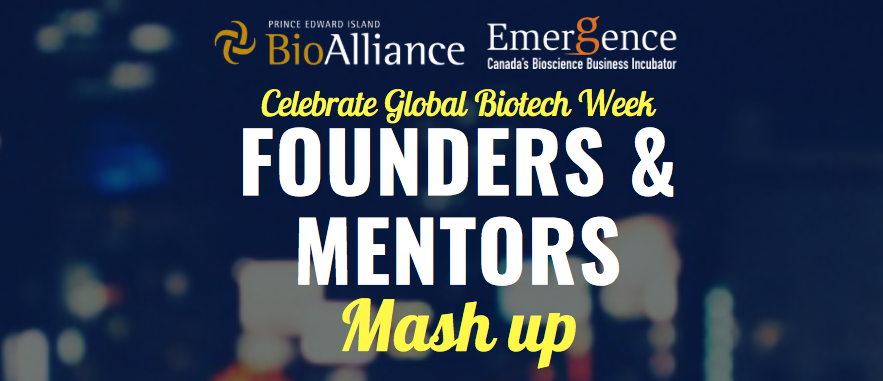 Our "Founders & Mentors Mash-up" took place on Monday, September 24 at the Delta Prince Edward in Charlottetown as the launch event of Global Biotech Week in PEI.
See: P.E.I. celebrates Global Biotech Week with Sept. 24 panel discussion.
The Mash-up celebrated the remarkable bioscience entrepreneurs who are pioneering cutting-edge innovations, as well as the mentors who support, guide and steer them in their endeavors.
The "Founders' Face-Off" brought together founders whose startups are defining the future to share the lessons of high-performance entrepreneurship.
The focus of this interactive and engaging conversation was on how to recognize and evaluate opportunities, create viable business plans, raise funding, manage growth, and harvest value. Featuring ventures at all stages of the company life cycle, this moderated conversation served to both inspire and educate – both current and future entrepreneurs alike!
Lunch featured a keynote presentation from one of the Emergence mentors – Dr. Ken Rotondo, President & Founding Partner of MindGenomics in the US on "Machine Learning and Health".
The "Mentors' Insights" session created an opportunity for participants to learn from,  and engage with, a group of experienced Emergence volunteer mentors.
This session helped guide participants through the challenges of their entrepreneurial journey and demonstrated how effective mentoring can positively impact the trajectory of startups.
Finally, due to the generosity of Emergence Financial Partner (and corporate sponsor), Grant Thornton, participants were able to end the day with "Nosh & Networking": an informal wine & cheese to end off an exciting day of learning, sharing, and celebrating!