As you will recall, at the end of 2016 EmerGence announced the formation of a new partnership program to support innovators and entrepreneurs.
Through this initiative, Emergence has partnered with leading providers of professional financial, legal and IP services to support our clients' growth. Click here to read more, and to check out our incredible Partners!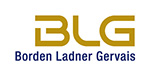 Well, our IP partner, Borden Ladner Gervais (BLG), has just released their annual thought leadership report: "Top 10 Legal Risks for Business in 2017″.
This report is now available for download for free by members of the EmerGence community by clicking here!
This year's BLG report has been expanded to provide companies with deeper insight into the key trends and regulatory changes that will have legal implications in the year ahead.
Covering common themes, including technology transformations to market concerns and public debates, the issues explored this year include :
innovation, disruption and the regulation of fintech,
cybersecurity and data privacy,
shareholder activism,
conduct risk as an increasing threat,
securities regulators,
medical cannabis,
natural resources under pressure and transformation,
government's evolving management of infrastructure,
the global trading system, and
employment agreements.
Clearly, there is something for all in this easy-to-digest, chapter-by-chapter, annual report. Check it our here!