Fredericton, New Brunswick-based Emergence client, SomaDetect, was a big winner at Communitech's Fierce Founders two-week Bootcamp Pitch Competition, which wrapped up August 24. Over 20 ventures took part. The two-part bootcamp hosted female founders to develop business skills for their startups.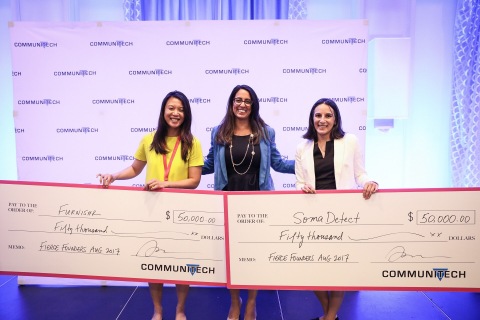 This year's winners were SomaDetect Inc. from New Brunswick, and Furnishr from Toronto and New York, which shared $100,000 in prize money.
SomaDetect provides farmers with the information they need to produce quality milk by monitoring herds with data.
Bethany Deshpande, SomaDetect's CEO, told us that winning this funding "is a dream come true".
"When you're building a startup, you believe in your business, but it's a challenge to get other people to believe in your business too. So this award from Fierce Founders is like a big validation that not only do I believe in my business, but that I have their support as well."
Throughout the bootcamp the women participated in intensive workshops on customer validation, design-led innovation, product management, financials and investment as well as pitch coaching.
The top 9 companies were judged by Michelle McBane of MaRS, Joseph Fung of Kiite Inc., Nicole LeBlanc of BDC, Lisa Rowsell of Thomson Reuters and Deloitte's Zahra Jivan.
"We look to the Fierce Founders program as a pipeline to prepare early-stage startups for investment readiness," Nicole LeBlanc of BDC and pitch competition judge told us. "These women are thrown into the startup arena and develop a strong sense of deal flow, preparing them for what's next."
The top three winners are also welcomed to claim the first spots in the third cohort of the Communitech Fierce Founders Accelerator, which focuses on women-led businesses and starts October, 2017.
"The Fierce Founders Bootcamp is an opportunity for like-minded women entrepreneurs to hone their required startup skills in an intensive six-day, hands-on format. This culminates in an investor pitch competition where participants get to showcase their companies and be judged on all the skills they've learned," said Seema Esteves, Fierce Founders senior program manager, Communitech.
Since the bootcamp's launch in 2014, Communitech has seen an increase in women engaging in its startup services, and now sees 25.9% of active startups with at least one female founder.
The Communitech Fierce Founders Bootcamp is sponsored by BDC, Bereskin and Parr, Deloitte, FedDev Ontario, Google Developers, Kognitiv, Scotiabank, and Thomson Reuters. For more information about Communitech's women in technology programming, please visit www.communitech.ca/fiercefounders.