Recently, EmerGence announced the formation of a new partnership program to support bioscience innovators and entrepreneurs.
Through this initiative, Emergence has partnered with leading providers of professional financial, legal and IP services to support our clients' growth. Click here to read more, and to check out our incredible Partners!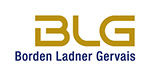 Our IP partner, Borden Ladner Gervais (BLG), has just released their annual life science sector report: "Life Sciences Legal Trends in Canada 2016-2017″.
This report is now available for download for free by members of the EmerGence community by clicking here!
This is the most recent report in a series that shares insights into critical sector-specific issues with BLG clients. The report includes contributed articles from multi-disciplinary BLG  professionals, including on :
intellectual property issues,
regulatory insights, and
capital market developments.
Borden Ladner Gervais LLP (BLG) is one of Canada's leading life science legal practices. The firm is engaged in all facets of the commercialization of life science technologies in Canada. BLG's practice is highly integrated: their IP patent agents and lawyers work closely with regulatory, venture capital, public markets, employment and competition lawyers for clients that span the boundaries of the sector, from benchtop to board room.
There is something for all life science ventures and investors in this easy-to-digest, chapter-by-chapter, report. Check it our here!